Seeking Efficiency in the Cow Herd
by Kindra Gordon for Angus Productions Inc.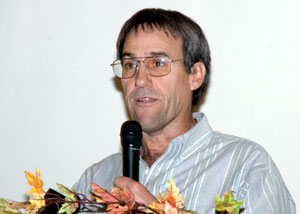 Andy Roberts MITCHELL, Neb. (Nov. 30, 2011) — How should feed efficiency data be used for the cow herd? That was the question researcher Andy Roberts addressed during his presentation to Range Beef Cow Symposium XXII attendees in Mitchell, Neb., Nov. 30. Roberts is a research animal physiologist with the USDA-Agricultural Research Service (ARS) at the Fort Keogh Livestock and Range Research Laboratory in Miles City, Mont.
Roberts got the audience's attention when his opening remarks questioned if feed efficiency data should be used for the cow herd. Roberts pointed out that current measures of feed efficiency — such as feed conversion, gain to feed, residual feed intake and residual gain — may not be the best factors to determine cow efficiency.
"Weight gain is not the critical output in cows," he pointed out.
Beef can't compete with other species on a 1:1 basis, he added. "We need to realize that and put it in proper perspective."
Rather than look at feed efficiency, he suggested cow longevity — reproductive rate — may be a better measure for cow efficiency, saying, "Lifetime production becomes important."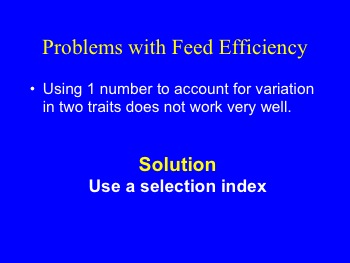 Roberts went on to explain that he questions using current measures of feed efficiency for cow efficiency because range settings are much more varied than finishing settings where harvested feedstuffs are fed. He pointed out that seasonal and annual variations in quantity and quality of forage can result in greater differences between biological and economic efficiency in the cow-calf phase compared to other sectors.
As an example, Roberts shared that cows that consume more calories during the growing season and gain sufficient weight to exist on less harvested feed inputs during winter may require less total economic input than cows with greater biological efficiency that consume less during the growing season but require more calories from harvested feed later.
While researchers continue to address the efficiency question, Roberts suggested cow-calf producers focus on available management strategies to improve efficiency in their herds.
"Match genotype and calving to the environment you are in," he stressed. "That influences cow efficiency more than anything."
Roberts shared research that showed crossbred cows have 25% greater lifetime production. "How will selection for feed efficiency compare to that?," he asked. "Not to say feed efficiency is bad. But think about prioritization and technologies available that can already give you cow herd efficiency."
To see Roberts' PowerPoint presentation, click here.
The biennial Range Beef Cow Symposium was hosted Nov. 29-Dec. 1 at the Mitchell Events Center, Mitchell, Neb., by the cooperative extension and animal science departments of the University of Nebraska-Lincoln, South Dakota State University, Colorado State University and the University of Wyoming. Comprehensive coverage of the event is provided online at www.rangebeefcow.com, an event coverage site provided by Angus Productions Inc. (API), publisher of the Angus Journal and the Angus Beef Bulletin.
Editor's Note: API's coverage of the event is made available for distribution to all media via an agreement with the Range Beef Cow Symposium Committee and API. Headquartered in Saint Joseph, Mo., API publishes the Angus Journal, the Angus Beef Bulletin, the Angus Beef Bulletin EXTRA, and the Angus e-List, as well as providing online coverage of events and topics pertinent to cattlemen through the API Virtual Library. For questions about this site, or to notifiy us of broken links, click here.