Questions to Consider for Perpetuating Generational Ranches

by Kindra Gordon, field editor, Angus Journal
RAPID CITY, S.D. (Dec. 4, 2013) — To set the stage for his presentation at the Range Beef Cow Symposium Dec. 4, family business consultant Dave Specht asked all those in attendance who were from a family ranching operation to stand. Then he had the generations begin to sit down — first generation, second, third, fourth, fifth. Finally, two sixth-generation individuals were left standing in a room of about 400 people.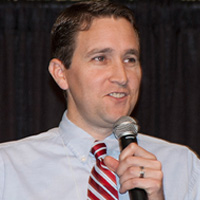 Dave Specht
"This room is full of legacy, stories and heritage," said Specht of all those generations represented. He noted that his intention is to help preserve families and legacies by helping facilitate the process of transitioning ranch operations to the next generation.
Specht then asked his audience what correlations they might see between bull riding and a family ranch. He explained that a bull rider ties his hand to the bull, which seems crazy, just as ranch families tie themselves to their operations, which can also seem crazy at times. On a more serious note, he pointed out that success in bull riding — and ranching — is in being able to exit gracefully under your own power.
With that he segued into the topic of transition planning. Specht acknowledged it can be a tough topic to discuss, but he encouraged producers to have the courage to initiate those conversations with their families.
To help facilitate that process, Specht has developed a series of questions for families to ask and answer.
"The answers to your challenges are within you," he added. "My hope is these questions will help pull the answers out of you." Some of the questions include:
What does it mean to be a (fill in your last name here)?
What is or would be the hardest thing about being a parent and/or owner of the ranch?
What is the biggest challenge of shared ownership in a family ranch?
Specht said the perspective that children or siblings or parents might give in their answers to these questions may provide valuable perspective in planning for the next generation on the ranch. He also emphasized, "There's no one right answer for every decision. But not talking about it is a problem."
Specht has recently released an app with a series of similar questions to facilitate discussions, learn more by visiting www.inspired-questions.com.
Specht spoke Wednesday at RBCS XXIII. Visit the Newsroom at www.rangebeefcow.com/2013 to view his PowerPoint, read his proceedings paper or listen to his presentation.
---------------------
The RBCS is a biennial educational symposium offering practical production management information. It is sponsored by the Cooperative Extension Service and animal science departments of the University of Wyoming, South Dakota State University, Colorado State University and the University of Nebraska.
Comprehensive coverage of the symposium is available online at www.rangebeefcow.com. Compiled by the Angus Journal editorial team, the site is made possible through sponsorship of LiveAuctions.tv and the cooperation of the host committee.
Editor's Note: This article was written under contract or by staff of the Angus Journal. To request reprint permission and guidelines, contact Shauna Rose Hermel, editor, at 816-383-5270.