The two best and worst decisions I have made in my operation
Dave Fischbach, Rancher, Faith, SD and Barry Dunn, Range-Livestock Production Specialist, SDSU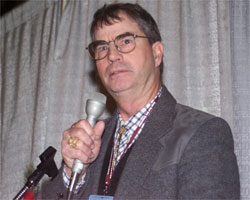 Rancher Dave Fischbach offered some cowboy logic for his management decisions: "Some of our right decisions were the hardest to implement, but the wrong decisions were the easiest to implement."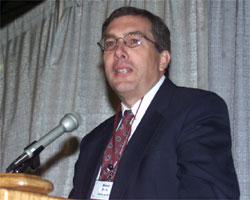 Barry Dunn, range-livestock production specialist, told the audience his worst decisions were based on tradition, anecdotal information and the seat of his saddle. The best decisions were based on sound business principles, research-based information and principles of integrated research management.

Dave Fischbach, a rancher from Faith, S.D., didn't have any pointers, charts or movies with which to present his worst and best decisions, but he said he could share "a little cowboy logic."

Fischbach told attendees of the 2003 Range Beef Cow Symposium that the worst decision he had made while ranching was to turn the family ranch into a corporation. "Even though we all grew up in the same household and in the same environment, our values and priorities were not the same to work together in a corporation," he said.

Another bad decision, he said, was when they tried a three-way terminal cross and tried to keep replacement females from their own herd. "There's a lot of good black-baldie cows out there," he said. It was an expensive lesson to learn.

His best decision was to split the family corporation, Fischbach said. "It was pretty painful, but not as painful as it was while we were in business together. We all get along better now that the ranch is split."

His second-best decision, he said, was to wean and sell the calves early due to a recent drought. Eventually they sold all the cows. He still hasn't replaced the cow herd, but he has grazed yearlings and a few cow-calf pairs as grass has allowed.

Barry Dunn, range-livestock production specialist from South Dakota State University (SDSU), shared his worst and best decisions. The worst decision he said was based on tradition. He idolized his grandfather's breeding management practices and was not about to change what had been so successful for his grandfather when he returned to manage the family operation.

"The worst decision that I made ranching was to not take advantage of maternal heterosis in the cow herd," Dunn said. As a result, he said, he sold pounds at a discount, he sold fewer pounds; and he gave up the longevity, vigor and survivability gained in a crossbreeding program.

He said his second-worst decision was adopting almost every new technology and buying almost every product that offered to position him for the future. He explained that he didn't understand basic business principles like ranch limits and carrying capacity, biological limits of growth and production, the point of diminishing returns and that the marketplace is always right.

Dunn said his best decision was to differentiate the L7 Ranch in the marketplace. He raised Hereford-Angus F1 females and marketed them by advertising their special sales. By differentiating his heifers, he received market premiums and improved marketability of other ranch cattle, the image of the ranch, and family relations.

The second-best decision Dunn said he made was to move the beginning of the calving season to May 1, based on unbiased research by SDSU and the University of Nebraska-Lincoln (UNL). Doing so reduced weather-associated risk, labor and harvested feed cost. Even though it reduced weaning weight, pounds weaned per cow exposed were not dramatically affected.

— by Corinne Patterson

Click here to download the presentation (in pdf format).



You will need Acrobat Reader to view.
Click the image to download a free copy.
Click here to listen to the presentation
Fischbach
Dunn

You will need Windows Media Player to listen in.
Click here to download a free version.