Developing replacement heifers: recent research findings on target weights and fat supplementation
Rick Funston, Beef Cattle Reproductive Specialist, UNL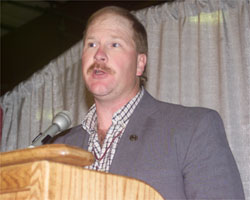 Rick Funston, beef cattle reproductive specialist, said pregnancy rates for low-gain and high-gain heifers were not statistically different. However, costs were higher for the high-gain group.

Experts agree that proper development of replacement females is critical to a cow-calf operation. Heifers should be managed to reach puberty early, conceive early in the first breeding season, calve unassisted and breed back early for their second calf. Producers strive to accomplish these goals at the lowest cost possible.

According to Rick Funston, a University of Nebraska (NU) specialist in beef cattle reproduction, producers have been advised to manage heifers to reach 65% of expected mature weight by breeding time. However, Funston told attendees of the 2003 Range Beef Cow Symposium that there is limited research to support this generally accepted guideline.

Recent studies have compared development of spring-born heifers at lower prebreeding target weights (55% and 60% of mature weight) and the effects on reproduction and cow and calf productivity. According to Funston, pregnancy rates for low-gain and high-gain heifers were not statistically different. However, costs were higher for the high-gain group.

"Average calf birth date, calf birth weight, calving difficulty and calf losses were similar for both groups through three calf crops," Funston said. "Calf gain and adjusted 205-day weights were also similar, indicating milk production was probably similar for both groups."

According to Funston, making sure heifers are of a biological type that matches the environment and ranch resources may be more important than application of high-cost heifer-development programs targeting a critical body weight. This does not discount the importance of adequate nutrition to achieve successful reproductive function.

Noting the considerable interest in using fat supplements in replacement heifer diets, Funston said studies suggest a limited benefit to fat supplementation in well-developed females. Nutritionally challenged heifers have the greatest potential for positive response. The feeding of fat may only be warranted when the cost is comparable to other protein and energy sources.

"More research is needed to elucidate possible mechanisms by which fat supplementation may positively or negatively impact reproduction in developing heifers," Funston added.

— by Troy Smith

Click here to download the presentation (in pdf format).



You will need Acrobat Reader to view.
Click the image to download a free copy.
Click here to listen to the presentation

You will need Windows Media Player to listen in.
Click here to download a free version.