Beyond EPDs – Marker assisted selection: practical and economical applications
Ronnie Green, National Program Leader, Food Animal Production, USDA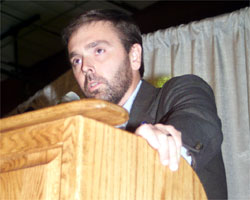 Ronnie Green, national program leader, Food Animal Production, USDA, provided an overview of the field of genomics as related to genetic improvement of beef cattle from historical, current and future perspectives.


For 75-plus years the practice of quantitative animal breeding and genetics research has been conducted on cattle. In 1986 genomics was the term coined for a new scientific discipline of mapping, sequencing and analyzing genomes.

"How did we end up where we are today in genomic research?" was the topic addressed by Ronnie Green of the U.S. Department of Agriculture (USDA). He told more than 700 attendees at the 2003 Range Beef Cow Symposium in Mitchell, Neb., "We are now down in the black box, if you will, beyond the performance data, down at the DNA level, trying to understand the genetic variation that is there and, furthermore, develop tools that will be able to use those differences to make genetic improvement."

The mammalian genome is made up of more than 3 billion pieces of information, Green explained. "We estimate there are likely 30,000 to 40,000 individually unique genes in each mammal genome."

There are two areas of genomics — structural and functional, he explained. Structural genomics is the understanding of the organization of the DNA and where the genes are located. Functional genomics involves looking at how they function, how they interact with each other.

The first step of genomic research is to develop road maps of each chromosome — genetic linkage maps. In 1994 the first cattle linkage map was published both in Australia and the United States. Green said at that time there were less than 500 markers; today there are more than 5,000.

After you develop a linkage map you then identify chromosomal regions that are important to economically relevant traits. This process is known as "fine mapping."

Where are we today? Some of the current tests available in the industry are:
• Thyroglobulin — marbling (GeneStar Marbling)
• Calpastatin — tenderness (GeneStar Tenderness)
• Calpain — tenderness
• Leptin — fat deposition
• Diacylglycerol acetyltransferase (DGAT) — fat deposition in milk

Green warned producers not to go overboard and overemphasize this technology early on.

On Friday, Dec. 12, USDA will announce the launch of the sequencing of the bovine genome. This will help take us from using the "black box" to identify genes to base-code sequencing, like is being done in the human. "This is a huge move forward for the beef industry," Green explained.

— by Angie Stump Denton

Click here to download the presentation (in pdf format).



You will need Acrobat Reader to view
Click the image to download a free copy.
Click here to listen to the presentation

You will need Windows Media Player to listen in.
Click here to download a free version.