Supplementing fat for the cow herd
Bret Hess, Nutritionist, UW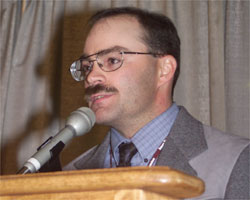 Bret Hess, nutritionist, studied supplementing fat to cow herds to increase biological efficiency. He told the audience that dietary fat fed postpartum increased ovarian follicular growth and development, improved pregnancy rates when fed at 60 days before parturition, and did not affect calf birth weight

.

Nutrition plays an important role in both reproductive efficiency of the cow and a calf's ability to survive, the University of Wyoming's Brett Hess told attendees at the 2003 Range Beef Cow Symposium in Mitchell, Neb. Hess, a nutritionist, has conducted numerous studies on the impact supplementing fat to cow herds has on these factors.

"The beef industry loses up to $500 million annually due to failure of the nation's cow herd to reproduce a calf every year," he reported, adding that research indicates fat supplementation may be beneficial in improving reproductive efficiencies.

"When we consider supplementing fat to the cow herd, it is typically suited to the last 60 days of pregnancy and 40 days postpartum," Hess said. "I refer to this as the critical 100 days because the cow's nutritional requirements are greatest."

In review of research showing the impact of supplementing fat during this time, Hess reported that supplementing fat to cows prepartum does not appear to affect the postpartum interval, nor does it impact first-service conception rates. But there does appear to be an increase in overall conception rates if linoleic fat sources, such as safflower seed, are used.

Additionally, calves from cows fed a fat supplement appeared to have a better ability to handle cold weather, and preliminary data shows their immune response to disease challenges may also be bolstered, according to Hess. At the same time, calves from cows supplemented with fat did not have a difference in birth weight compared to calves from cows that were not supplemented fat, and, as a result, there were no differences in calving difficulty.

However, Hess cautioned that first-calf heifers fed fat after weaning and through breeding showed a notable decrease in first-service conception rates.

"In this case, supplementing fat may increase ovarian follicular growth, but it does not improve reproduction, so as a producer you may not want to supplement fat to this group," he said.

— by Kindra Gordon


Click here to download the presentation (in pdf format).



You will need Acrobat Reader to view.
Click the image to download a free copy.
Click here to listen to the presentation

You will need Windows Media Player to listen in.
Click here to download a free version.