How we enhance our natural resources on a working ranch
Mike Kelly, Rancher, Sutherland, NE – 2003 National Winner of NCBA Environmental Stewardship Award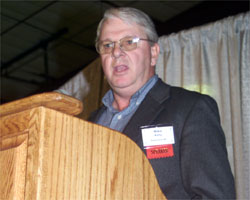 Mike Kelly, winner of the 2003 National Cattlemen's Beef Association (NCBA) Environmental Stewardship Award Program (ESAP), talked about grazing and conservation practices he has implemented on his ranch. "There is an opportunity to work with government and conservation agencies to improve our management," he told attendees of the 2003 Range Beef Cow Symposium.
Click the links below to view articles published in the Angus Journal about the Kelly Ranch.
March 2003 article
November 2001 article
March 1995 article
Click here to view the presentation (in PowerPoint format).

Click here to listen to the presentation

You will need Windows Media Player to listen in.
Click here to download a free version.