Early and fenceline weaning of calves - producers experience
Kirk Laux, Laux Feedyard, Bridgeport, NE and Harlow Hill, Maddux Cattle Co., Wauneta, NE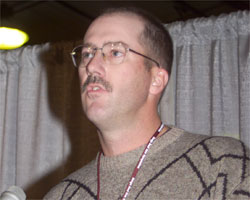 Because of the drought, Kirk Laux and his family decided to wean in July/August rather than October/November and to use fenceline weaning to reduce the stress on calves.



Harlow Hill of Maddux Cattle Co., has moved up the operation's weaning date to May/June. Weaning at this young age has helped the operation harvest cattle in April and stretch grass resources.

Earlier weaning works, said Harlow Hill, Maddux Cattle Co., and Kirk Laux, Laux Feedlot, both in Nebraska. For the last two years Hill has moved up weaning dates from September to the last week of May and June for calves born between Feb. 1 and the end of April. Laux moved his weaning dates from October/November to July/August.

"The last several years we have had four different groups. Weaning weights range from 250 to 350 pounds (lb.). Finished weights the following April are about 1,250 pounds," Hill told attendees of the 2003 Range Beef Cow Symposium in Mitchell, Neb.

Hill said he moved to earlier weaning because the operation is geared toward April marketings. Earlier weaning stretches grass to accommodate more cows, makes it easier to move dry cows rather than pairs to pasture and allows cows to put on more weight before winter.

"We have also had to limit-feed all or part of our herd for the last four years because of drought. By having the calves off of the cows, it cheapens the ration considerably," he explained. "If you wean early enough, you can take advantage of the calves' passive immunity acquired from the cow's colostrum, too, rather than vaccinate. We only vaccinate calves with respiratory distress to clear up problems quickly and cost-effectively."

Laux said he has a similar strategy. He has been able to reduce the stress on his grass by about two-fifths of an animal unit with early weaning. He also found passive immunity was an advantage, and he deworms his calves. "We try and beat the heat, handle the calves quickly and quietly at weaning. By October or November, we may need to vaccinate."

When it comes to feed, Hill said he likes to provide a weaning ration to cows and calves a day or two before the calves are pulled to get them on feed more quickly. In 2003, calves were weaned on irrigated grass, with the cows in an accompanying drylot fed a short ration of silage. Calves were on the irrigated grass with access to bunks filled with a sweet ration of two-thirds corn gluten and one-third distillers' corn plus trace minerals.

"We kept the cows across the fence for five or six days. Then we herd the cows to native grass or another drylot, depending on drought," he says. "Once the cows are gone, we get another group of pairs and start weaning all over again."

Laux said fresh, clean water and a supplemental protein source are important. "We feed small amounts numerous times a day to get the calves to the bunk," he explained. "We modify the feedbunks and water tanks to accommodate the smaller calves."

He said the calves finish earlier than later-weaned calves, and the system provides an overall system gain. Smaller calves are easier to wean and easier to doctor, and it helps get cows ready for winter. "We see less pressure on grass and the potential for a better grade and higher prices," he added.

"Exercising cattle will make them more content and healthy. We keep calves on green grass 30 to 45 days before we move them to the feedlot," Hill added. "This seems to work well. The calves settle in on the feedlot ration and adjust fairly quickly. Early weaning is very successful for our operation. It may not work for everyone, but it helps us meet our goals for April marketing and drought management."

— by Barb Baylor Anderson



Click here to download the presentation (in pdf format).



You will need Acrobat Reader to view.
Click the image to download a free copy.
Click the links below to listen to the presentations:
Laux
Hill
You will need Windows Media Player to listen in.
Click here to download a free version.