Water quality for cattle - effect on performance
Trey Patterson, Extension Beef Specialist, SDSU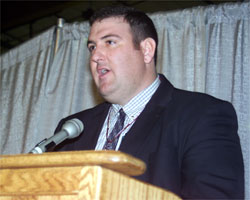 Trey Patterson, Extension beef specialist, evaluated different levels of sulfate concentration to see the effect on cattle performance. He told producers they need to know their water quality and to develop a plan to best manage water. "Don't turn your back on water quality," he said

.

Developing nutrition and grazing strategies can easily allow beef producers to take for granted the importance of a good, quality water source, said Trey Patterson, South Dakota State University (SDSU) Extension beef specialist. He noted much of the water available in South Dakota is probably not sufficient in quality to sustain performance and health of cattle — a problem common throughout much of the United States.

If water quality is poor, cattle may consume less, which in turn results in reduced dry matter (DM) consumption, Patterson pointed out during the second day of the 2003 Range Beef Cow Symposium, Mitchell, Neb. High levels of salts in surface and subsurface sources may lead to problems for livestock.

Patterson advised producers to check for salts in water by evaluating total dissolved solids (TDS). Sodium sulfate is a primary cause of elevated TDS in South Dakota waters, he said. Sulfates may decrease intake and performance more than other salts.

Patterson showed results from testing a stock dam from May 2001 through July 2002. Sulfate levels varied from 3,000 parts per million (ppm) to 10,000 ppm. This extreme shows how water sources need to be continually monitored, especially during drought.

Water containing high levels of salt can compromise performance and health of cattle in three ways, including:
1) reduced water and feed intake,
2) ingestion of toxic levels of sulfur, and
3) induced trace-mineral deficiencies.

While sulfur is required for rumen microorganisms, ingestion of toxic levels can occur if cattle consume water high in sulfates. Ingestion of high levels of sulfur can cause polioencephalomalacia (PEM). Animals with PEM express symptoms that may include lethargy, anorexia, blindness, muscle tremors, gastrointestinal stasis, lack of coordination, staggering, weakness, convulsions and death.

He reported safe and unsafe levels of sulfate with these reactions:
• <500 ppm is a safe level.
• 500-1,500 ppm is still considered safe, but may have a laxative effect.
• 1,500-3,000 ppm is marginal, and may reduce performance and health.
• 3,000-4,000 ppm is considered poor and is likely to reduce performance and may cause polio.
• >4,000 ppm is dangerous.

Patterson overviewed research indicating that yearling cattle in a drylot situation with poor-quality water will have more sickness, death loss and incidence of PEM. At the cow-calf level, range studies show that sulfates can reduce pounds weaned and can cause other problems.

Patterson said producers have options when poor water is all that's available. Use pastures with poor-quality water early in the summer. Use the water source when temperatures are not elevated and there is less heat stress. Mix poor water with better water, and develop better water sources, he advised.

"Bottom line, know your water quality and develop a plan to best manage water if you are forced to use it," Patterson said. "Don't turn your back on water quality."

— by Corinne Patterson

Click here to download the presentation (in pdf format).



You will need Acrobat Reader to view.
Click the image to download a free copy.
Click here to listen to the presentation

You will need Windows Media Player to listen in.
Click here to download a free version.