International factors that affect your cattle prices
Wayne Purcell, Agricultural Economist, Virginia Tech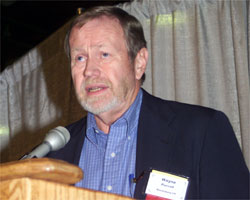 Wayne Purcell, ag economist, said the price outlook for calves is good for maybe the next five to seven years. The demand for beef has increased, which helps producers' long-term profit goals

.

The table is set for favorable cattle prices during the next several years. Wayne Purcell, ag economist with Virginia Tech, told attendees that many major economic factors are at work in the sector: imminent herd rebuilding will begin in 2004, and demand will rise for U.S. beef.

"We haven't seen this combination of factors since the early 1970s — heifer holdback, which will reduce per capita beef supplies, and increased demand for beef," he said. "Unless corn prices surge, and this is unlikely, calf prices will go above $1.00 and generally stay there for the next several years, perhaps as long as five to six years."

In addition to the positive price outlook, Purcell stressed with producers attending the Range Beef Cow Symposium three other points:
1) increasing beef demand is the most important determinant in making a profit;
2) producers must focus on consumer desires; and
3) world trade and domestic policy will impact the beef business with unanticipated consequences.

Purcell said the Jan. 1, 2004, annual cattle inventory will be down again. Poor pasture and hay conditions, record prices in the second half of the year and the closing of the Canadian border to beef and cattle trade in 2003 made it hard for producers to hold heifers.

The ag economist urged producers to look for bred heifers and cow-calf pairs now to generate cash flow quicker and improve genetics in the process. He also recommended producers check out price grids and vertical alliance premium programs, and move the quality and size of cattle toward what the new, more consumer-driven marketplace wants.

"The key to long-run viability and the chances to make a profit are demand," he said. "We need to see a continued aggressive pace in packer-level investments in new consumer-friendly product lines. Big packers have moved away from being low-cost commodity operators to developing new branded and quality-assured product lines. That is huge in its importance to cow-calf producers. Consumers have paid for a better product offering."

Well-intended legislative initiatives could end up hurting producers, Purcell added. "When Congress requires new programs that add costs along the supply chain, producer prices will go down unless the legislation can add more value than the program's cost," he said. "Trade is also often controversial, but research shows a positive net benefit."

In looking ahead, Purcell told producers to be consumer-driven, take advantage of opportunities and have an open mind. "When the volatility in 2003 settles out, the beef business can be facing a positive future," he said. "If we do the right things and do not shoot ourselves in the foot, the next few years can be good years for the beef cow owner."

— by Barb Baylor Anderson


Click here to download the presentation (in pdf format).



You will need Acrobat Reader to view.
Click the image to download a free copy.
Click here to listen to the presentation

You will need Windows Media Player to listen in.
Click here to download a free version.