The cattle markets - the influences and future prices
Jim Robb, Director, Livestock Marketing Information Center, Lakewood, CO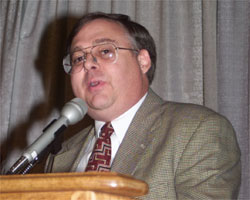 Jim Robb, director of the Livestock Marketing Information Center, talked with the audience about cattle, meat and export markets. "There are still a few good years," he said, "but as you keep with it, you should be able to pencil it in."

Based on the factors that influence the cattle market, Colorado-based economist Jim Robb believes cow-calf producers can look forward with optimism. The director of Livestock Marketing Information Center calls the fundamental signs supportive of calf prices.

At the 2003 Range Beef Cow Symposium, Dec. 11, Robb attributed recent and current positive prices to cyclically small cattle supplies, which led to production of 50-70 million pounds (lb.) less beef in 2003 compared to the previous year. Other factors influencing a 12% decline in beef supply include the closing of the border to Canadian cattle due to the finding of bovine spongiform encephalopathy (BSE) in that country. U.S. animals have been pulled ahead, resulting in lower finished weights and lower carcass weights. In addition, positive beef demand has continued to support higher prices, helping to boost October fed-cattle prices to levels $33-per-hundredweight (cwt.) higher than at the same time last year.

Robb credited the supply situation for about $21 of that change. Improved beef demand added another $6, while decline in live-to-retail margin and an increase in byproduct value collectively added another $6 per cwt.

While fed prices probably won't be as high in 2004, Robb said he suspects the best calf prices may be yet to come. The beef industry has experienced a longer-than-normal liquidation phase, with widespread drought exerting considerable influence. Beef cow owners have not been holding back heifers to rebuild their cow herds, but that will change. Heifer retention will mean fewer cattle going into feedyards.

Robb said he looks for strong 500-lb.-calf prices of $1 per lb. or better for the next two years. Factors with potential for tempering positive prices include uncertainties about corn production. The consequences of a short corn crop, Robb warned, fall on the heads of cow-calf producers. Stronger economies in the United States and abroad are supportive, but tenuous. Certainly, economic conditions influence beef demand, but demand still looks bright. Unknown is the potential impact of increased supplies and associated lower retail prices of competing meats – pork and poultry.

Robb also looked for an improved cull cow market as fewer beef and dairy cows go to slaughter.

"It is a fundamentally optimistic time," Robb said. "But don't be deceived. Calf prices will erode – probably by 2006 or 2007 at the latest – but it looks like cow-calf producers are in for a good two- to three-year run."

— by Troy Smith

Click here to view the presentation (in PowerPoint format).


Click here to listen to the presentation

You will need Windows Media Player to listen in.
Click here to download a free version.