Managing to alleviate calf scours - "Sandhills management system"
Dave Smith, DVM, Extension Veterinarian, UNL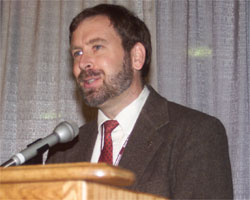 Dave Smith, DVM, said that vaccines alone can't prevent scours. You need to decrease the amount of contacts that result in transmission. He stressed that calves act as multipliers of the disease.

Calf scours continue to be a management issue for beef producers across the United States, said David Smith, Extension veterinarian at the University of Nebraska-Lincoln (UNL). He reported that death rates of 5%-10% could be experienced annually, with 100% of the calves becoming ill.

Many economic losses are associated with scours, including loss of performance, mortality and the expense of medication and labor to treat sick calves. There is also a toll on management, Smith told attendees of the 2003 Range Beef Cow Symposium in Mitchell, Neb.

Several agents can cause scours, including bacteria, viruses, protozoa and fungi. The "big three" — rotavirus, coronavirus, cryptosporidia — are naturally occurring in the environment.

Smith quoted Leunis Van Es from his 1932 book, Animal Hygiene, "The faith in 'cures' and the practice of dealing with disease problems only after they have arisen … is antagonistic to disease prevention." While vaccines are available to prevent scours, they are not 100% effective.

Beef producers should focus on management of the environment to prevent scours, he said.

A Nebraska Sandhills testing program developed a system to prevent calves from making effective contacts with pathogens. Smith defined an effective contact as an exposure to pathogens of a dose-load or a duration sufficient to cause disease. Prevention strategies incorporated in the Sandhills Calving System include:
1) segregating calves by age to prevent direct and indirect transmission of pathogens from older to younger calves; and
2) routinely moving pregnant cows to new calving pastures to minimize pathogen dose-load and contact time.

Smith outlined two case studies in which herds having problems with high death rates implemented the Sandhills Calving System. In both cases, death was signicantly reduced.

Moving "heavy" cows away from the pairs to a new pasture each week may prevent unborn calves from exposure soon after birth to the agents the older (1- to 2-week-old) calves may have shed in the environment.

"Neonatal calf scours is a multifactorial disease," Smith said. "Agent, host and environment factors play important roles in the occurrence of disease, and knowledge of these factors becomes the basis for management intervention to control the disease."

To learn more about the Sandhills Calving System and to view case studies, see Smith's proceedings, which can be download from this site.

— by Corinne Patterson


Click here to download the presentation (in pdf format).



You will need Acrobat Reader to view.
Click the image to download a free copy.
Click here to listen to the presentation

You will need Windows Media Player to listen in.
Click here to download a free version.