Minerals supplementation – major and trace: when and what are the economic benefits?
Cody Wright, Extension Beef Specialist, SDSU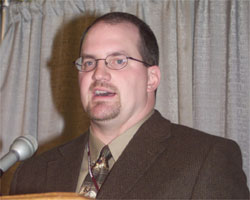 Cody Wright, Extension beef specialist, said it's important to objectively evaluate current herd mineral status, then rule out any other contributing factors, so you can develop a strategic mineral program to reduce expenses

.

According to South Dakota State University (SDSU) ruminant nutritionist Cody Wright, there are two certainties associated with mineral supplementation of beef cattle. The first is that cattle do require minerals. The second is mineral nutrition is very complicated.

At the 2003 Range Beef Cow Symposium in Mitchell, Neb., Wright advised producers to take a commonsense approach by remembering that animal requirements change with stage and level of production. In addition, he advised producers to consider differences in forage supply of minerals and adopt methods to supply cost-effective mineral supplements that ensure intake and bioavailability.

Wright said the first step is to be aware of animal requirements. Producers can work with beef cattle nutritionists or consult the Nutrient Requirements of Beef Cattle publication for information.

"Assess your current program. Analyze performance and production measures and look for signs of deficiencies," Wright suggested. "Determine what minerals are provided in the diet. Test forages and other feeds to know what minerals they contribute and what must be supplemented."

Wright said research has shown that the mineral content of some forages may be sufficient to meet a significant portion of the cow's needs. However, forages should be sampled and analyzed for mineral concentration periodically throughout the year to facilitate appropriate modifications to the mineral program.

Sources of minerals contained in commercial supplements should be considered. Inorganic mineral sources are generally the most cost-effective, but they vary in bioavailability. Wright said research suggests that organic sources are more bioavailable, but producers must determine if production response to organic minerals justifies their higher cost.

The most expensive mineral to supplement is phosphorus (P), and Wright said he believes that many common commercial mineral formulations contain excessive levels of P. If the cow herd is not under production stresses, supplementation above requirements is costly and generally unproductive. This is especially true for P.

According to Wright, options for reducing costs of mineral supplementation include strategic supplementation and custom mineral mixes. Strategic supplementation involves providing mineral supplements only during periods when nutritional needs are greatest. Customized mineral formulations can be tailor-made to meet a producer's needs and may prove to be more cost-effective than commercial mineral supplements.

"Any changes to a producer's current mineral program that involve additional cost should result in increased production or performance to offset the added expense," Wright advised.


— Troy Smith

Click here to download the presentation (in pdf format).



You will need Acrobat Reader to view.
Click the image to download a free copy.
Click here to listen to the presentation

You will need Windows Media Player to listen in.
Click here to download a free version.